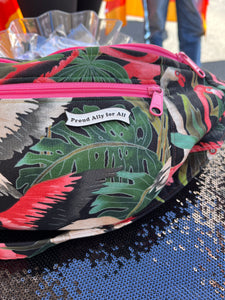 Our beloved 'A's' of the LGBTQIA+ community now has a dedicated pin inspired by the 'Every Gay is a Gift' pin style. 
Our proud ally enamel pin features a positive and encouraging message with our most loved pin style. This pin features two secure backing points on opposite ends holding the pin firmly in place.
Stay put glitter and strong plating ensures this pin holds up against dings and dents of everyday life.   
Nickel plating (black)
Soft enamel pin
Two secure points on opposite ends
Two rubber backers
Measures ~ 2" wide by 1/2" high
 RECOMMENDED SWAGGER
Pair with a Pronoun Pin, an 'Every Gay is a Gift' pin, or the 'Take it Up With My Middle Finger' pin.